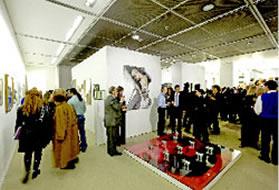 The American College of Greece, Athens, Greece

This project was conceived as an addition to the recently completed library extension, forming an ideal location for the college archives and art storage as well as a multi-function space that would primarily act as a gallery space and double up as a lecture hall for presentations.

The project was complex, requiring architectural, mechanical and electrical studies and expertise. The architectural design was undertaken by Fluid Architects, a "young" practice with over a decade of experience in both the private and public sectors on projects of all sizes.

The gallery/lecture hall measures 300m2 and was conceived as a multi-functional space that could adapt to its respective functions. The main design criteria was to keep the larger space simple and clean for temporary exhibitions of the highest quality. The space has been equipped with two types of ceiling tracks – one enables the location of high quality light fittings to accentuate artwork – the other enables Panelock Gallery Display System 400 full height panels to be relocated anywhere on the 2.4m grid to break the space into smaller assembly spaces. The Gallery Display System 400 panels also double as exhibition display screens. The ceiling height within the exhibition area has been maintained at 3.5m to enable large pieces of artwork to be exhibited.

To complement the full height Panelock System 400 panels, Gallery Display System 200 has also been used to augment the surface display area. The patented modular free standing display units which are moveable and fully demountable further enhance the flexibility of the exhibition space, enabling intricate display layouts.

The auditorium/assembly space has been designed to seat up to 300 people and is formed by relocating the System 400 panels thereby creating a backdrop to the area and enabling the correct sizing of the space according to attendance requirements.